An Explanation
Preface
Hey guys. I did not expect this stupid experiment to come this far, but once it gained ground I picked it up and ran with it. It was a lot of fun to watch as you spent an entire day trying to figure out what the hell was going on. Hopefully this will clear up some of the confusion. It might also help you to figure out who I am. If you can't figure it out then maybe I'll leave some very very obvious clues lying around. Good times.
Cheerio,
- F. Obvious (00:18, 25/04/09)
The Letters
Assorted Facebookery
Facebook was DEFINITELY not part of the plan when I was creating the letters. However people would not stop talking about them for the entire day, and there was a lot more speculation about the identity of the bear than I expected. So I thought it would be interesting to add some strange crap online.
The Takeover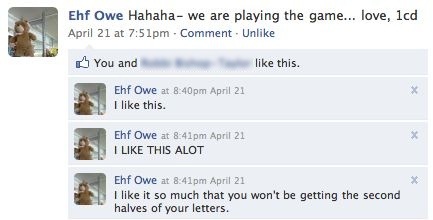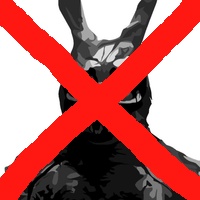 When I created the Facebook account I was wondering if something like this would happen. But I thought it a small possibility and went ahead anyway. It scared the living shit out of me when I found you took over both the Facebook AND the GMail account. I spent the next hour trying to figure out how they did it and I reclaimed it, fixing all the security holes that I could think of. That will teach me to leave secret questions unanswered.
Five minutes after I had broken back in and left stupid power-tripping messages on Facebook updates, I got the idea to mutate into Frank. I thought this might be a cool little development and keep the mystery going. It seemed to work a bit too well. Jeeze guys, it's only a character from a movie. Actually, no I can see where you're coming from, that thing is fucking scary.
Deliverance

That note that I left downstairs got taken down, probably before anyone saw it. It was stuck to the door near the mailboxes that you see as you come down the stairs from the rooms at college. Fortunately the second halves of the letters got delivered and everyone thought that's what I meant. The note said something about calming down because some people were over-reacting and hyperventilating at the though of Frank.
Batty is on the Case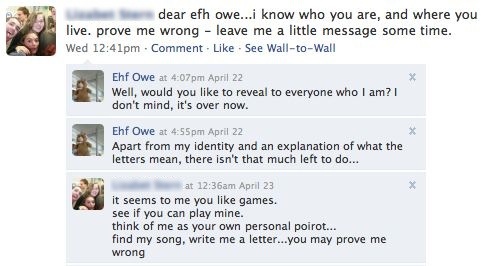 WTF? Wombat seemed to do quite a bit of publicity for this experiment even after it had kind of died. Lots of enthusiasm, that's what I like to see. It's fairly hard to psych someone out over the internet, nice try though, you had me going for a bit there.
Traitorous Cork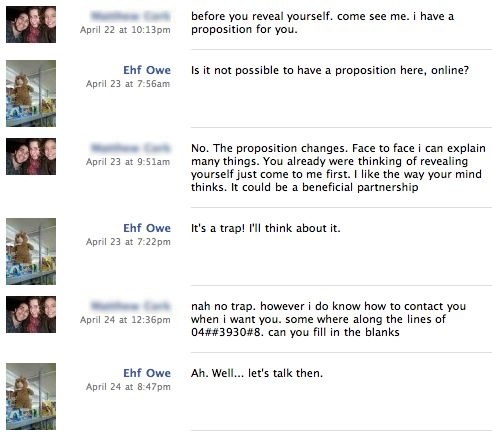 This was strange. It leads me to think that I should never trust Corky. Ever. Which is why I didn't trust him here either. I posted a chat box on his door unfortunately it has disappeared and hasn't come back. Too bad, with this I would prefer to work alone. Also, good job on finding out my phone number. The only digits that match my own number is the 04.
Ok, that's almost everything. But i'm not going to say who I am. I haven't won.
---
(00:00 26/4/09)
This is beyond a joke now. I'm sick of this persona. Everything that happened from Facebook onwards has tainted the whole event. This was meant to be a bit of fun for a while. Instead there has been arguments, threats and insults. I'm sorry for everything that has happened here, there will be no more.